The Mieczysława Cholewa collection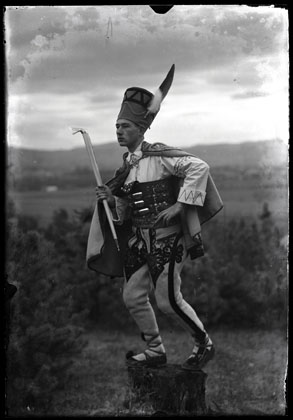 Mieczysław Cholewa's collection is made of over 600 negatives from the 1920s and 1930s, as well as traditional folk costume elements. Mieczysław Cholewa (1913-1978) was a photographer and amateur ethnographer, who in the interwar period worked to popularize the Sądeczcyzna region and photographed the folk culture of the Polish Carpathians, as well as collected traditional costumes.
The photographs, taken on glass negatives and celluloid film, are very valuable because they record the largely non-existent material culture (clothes, architecture) of Nowy Sącz area. The objects, purchased in 2015, complement and – more importantly – complete Mieczysław Cholewa's collection, whose significant part (over 130 objects, including costumes, musical instruments, embroidery designs and drawings) was already owned by our museum.
Additionally, 200 most severely damaged, yet still very valuable due to the content glass negatives were cleaned and then digitized. Some of them are presented below.
Eminent ethnographers such as Tadeusz Seweryn or Roman Rainfuss used many of Cholewa's photos for their ethnographic studies. In the 1940s Cholewa self-published dozens of them as postcards.
The "Purchase of Mieczysław Cholewa's collection" project was funded by the Ministry of Culture and National Heritage as a part of the Collections – Priority Museum Collections project.
Project coordinator: Joanna Bartuszek