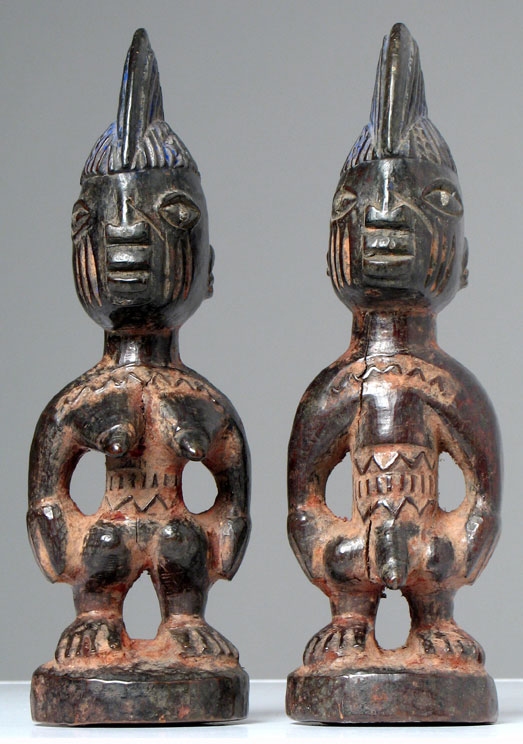 The National Ethnographic Museum in Warsaw purchased 51 Ibeji figurines from the Bojarski family's collection. The acquisition includes 23 pairs of figurines and 5 single sculptures. As the purchase's result, the museum now possesses almost an entire range of Ibeji figurines from the most of Yorubaland's regions. Moreover, the figurines were digitized and in that form are available to visitors. Until July 2015 they could be admired at the temporary exhibition titled "Ibeji Figurines. Soothing the pain after child loss…"  It was another part of the "Vivat Polonia. Traces of Poles in Africa" exhibition.
Yorubaland State in Nigeria is the place where the greatest number of twins is born in the whole world.  It is estimated that 45 births in 1,000 are twins. Their birth are both a joyous event and a reason to worry. Often one of the children, or both, die. If that's the case, parents visit an Ifa seer called babalawo, who decides whether an Ibeji figurine should be made, and which artists should craft it. While the figurine is being made, the mother of the dead child sends the artists gifts and food. Having received the sculpture, she carries it home on her back, singing all the way. Typically, the figurines are placed in small shrines in the mother's bedroom. Their faces are washed and bodies adorned with colourful costumes and beads. Ibeji are fed with favourite snacks and rubbed with palm oil. For the night, especially when it's cold, they are placed in special baskets. If you take care of your Ibeji figurines, they'll bring  health and good fortune. Woe to those who neglect them!
Nowadays, the wooden sculptures are often replaced with much cheaper mass-produced dolls or photographs.
Project coordinator: Dariusz Skonieczko, dariusz.skonieczko@ethnomuseum.pl