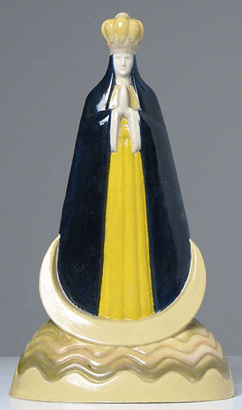 A fascinating journey across the Polish countryside, likely to awaken a passion for collecting in anyone.
The collection was created by Andrzej Delinikajtis (1926-2012), professional lawyer, journalist by trade, who after the war co-operated with "Współczesność" magazine and then with Polish Radio.
The collector travelled Poland, gathering the objects that make the collection. They include 19th century sculptures and paintings from backwater churches and road shrines as well as folk art objects created after WW2. Delinikajtis visited famous sculpting centres, buying works of art directly from their authors or authors' families. Most of the objects were purchased in the 1960s. The collection is made from works created by, among others: Józef Piłat, Wincenty Krajewski, Józef Janos or Jan Lamęcki. Earthenware art deco figurine of the Madonna of Skępno is an exception. Designed by Władysław Adamiak, it was made in the 1920s in the Earthenware Works in Pacyków.
All the objects can be admired at the Biblia Pauperum: The Art of the Poor and Excluded. The image of god in folk art exhibition, in the Internet exhibition and the catalogue on the museum's website. The purchase of the collection was an incentive for making a series of short documentary films, which show the stages of including new object into the museum's collection (inventory, conservation, photographic documentation).