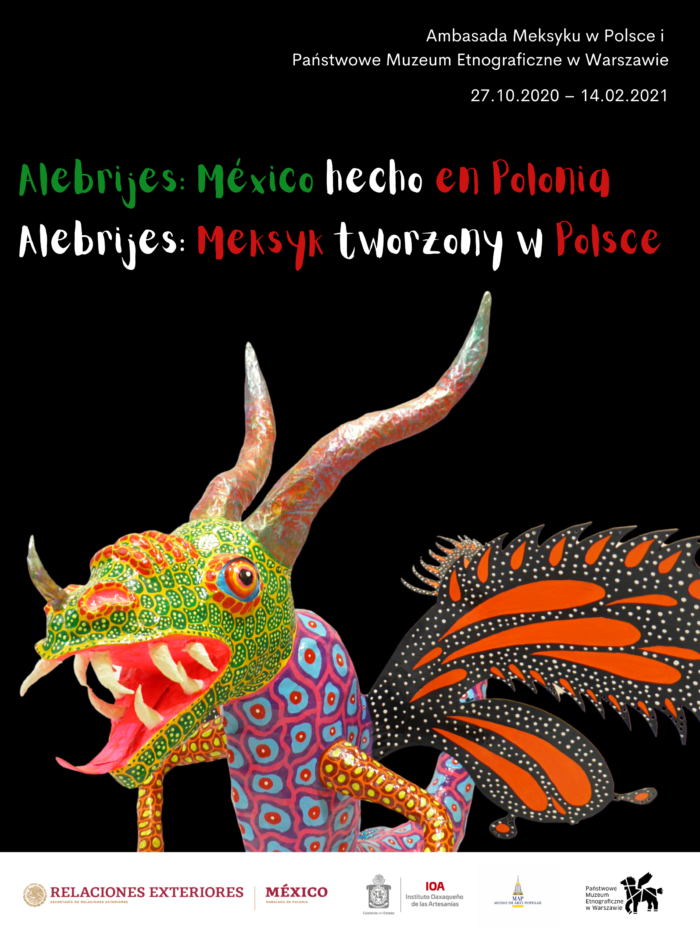 Discover Mexican sculptures that are out of this world with imaginary, fantastic creatures. Legend has it that Don Pedro Linares, during a serious illness, dreamed of a forest inhabited by animals that were hybrids of a dog and a rooster, or a donkey and a snake. When the artist recovered, he immediately recreated them using cardboard, paper paste and papier-mâché. Where does the name ALEBRIJES come from? Apparently, this was what the fantastic figures in his vision were shouting at him.
Another Mexican artist, José Luis Massey Aguirre, says that the many parts that make up the alebrije are in harmony with each other as they express balance and the presence of dormant strength. This is how poetry emerges unexpectedly, which we cannot perceive in the objects around us, and its enormous unpredictability amazes us.
The exhibition takes place every year during All Saints Day and All Souls Day in Poland and the Day of Death in Mexico. The rites, in both cultures, related to these celebrations are intended to help people get used to what is inevitable and mysterious. The most representative element of the Day of the Dead in Mexico are the altars that represent the Mexican vision of death, full of allegories and meanings. On the Day of the Dead, Mexican families build altars in their homes to commemorate their loved ones. Also at the Alebrijes: Mexico Made in Poland exhibition there is an altar, which this year is dedicated to Ewa Demarczyk. Courtesy of the family, the Museum has received the artist's original photo, which will be placed on the altar on Friday, October 30, before All Saints Day.
The exhibition "Alebrijes: Mexico Made in Poland" is carried out thanks to a project that has been running for five years. It is the result of cooperation between two institutions: the National Ethnographic Museum in Warsaw – and the Museum of Folk Art in Mexico City, on the initiative of the Mexican Embassy in Warsaw. Thanks to it, you can see the universality of Mexican folk culture, which, in addition to being presented in international galleries, can be reproduced and assimilated in other latitudes.